The Scoop: Many couples desire a wedding venue that combines country charm with understated refinement. The Farm — A Gathering Place, is a wedding venue and event space near Asheville, North Carolina, that offers rustic elegance in a beautiful setting. The Farm is situated in the picturesque Blue Ridge Mountains and provides a personalized experience that ensures each wedding is special. The Farm's team include on-staff coordinators, chefs, and bar servers who can help guide couples, who can fine-tune the details for their wedding day.
When couples decide to have their wedding at The Farm, an upscale country-style venue near Asheville, North Carolina, they may choose the facility for its setting in the Blue Ridge Mountains. But they also receive personalized attention from the staff in the process.
Beverly Gottfried, who owns The Farm with her husband Myron, describes the venue as "rustic elegant."
"That fits us better than anything because we're not a hoedown, although I've had brides with cowboy boots," Bev told us. "Yet the fluffy, beautiful dresses are not out of place, either."
The Farm's on-site wedding planner and chefs help couples decide on the details of their special day well before the ceremony.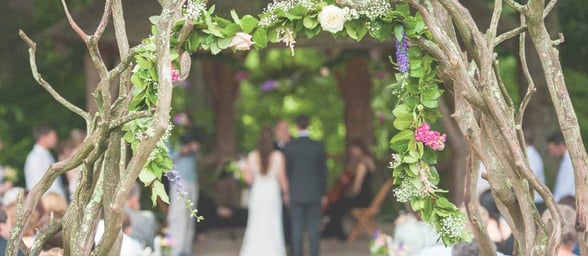 "So many people think a wedding just organically happens and don't realize somebody is holding a timeline in hand. We start engaging with the couple at 90 days, then 60 days, and 30 days," Bev said. "We sit down and talk everything out every little detail — we go through every single piece so if something comes up, we know exactly what they want."
Executive Chef Mike Ferrari prepares the dishes, including the popular farm-to-table menu of Southern comfort food, served as part of a seated meal for guests. And couples are often impressed with the staff calligrapher, who writes the guests' names on place cards.
Couples can invite around 100 friends and family members, many of whom stay in The Farm Cabins, designed with reclaimed wood and tin roofs. Cabins are outfitted in luxury with fireplaces and high-end linens, and offer gorgeous mountain views. Other guests stay at nearby hotels and Airbnbs.
Local guests and attendees traveling from out of town can easily reach The Farm.
"We are only nine minutes from town, it's a very peaceful place out here, but it's easy for people to get to downtown Asheville if they want to," said Bev.
Wedding Planners Help Couples Personalize the Experience
The Gottfrieds started building the space in 2003 and hosted their first event in 2004. In the nearly two decades since, The Farm's three on-staff wedding planners have developed a knack for helping couples choose on-site locations for their ceremonies, dinners, and receptions.
The 17-acre property is full of new and rustic buildings, some more than 100 years old. Many couples opt for the main Event Space, with its stone fireplace, wraparound porch, and high ceilings for weddings in the winter season. In the warmer months, couples often choose the Gazebo or Pavilion, which are ideal for outdoor ceremonies, rain or shine.
Originally a chicken coop built by the Gottfrieds, the Chicken Chapel is a popular choice for photographs, and it can hold small ceremonies or receptions.
"My husband built and designed this little building, and I said, 'That looks like a church.' So he put a steeple with a chicken weather vane on top," Bev told us. "We called it the 'Chicken Chapel.' We painted it white, and people love it. We put in church pews that were over 100 years old. It can hold 15 or 20 people for a ceremony, or we can take the pews out and have receptions there."
The newest addition to The Farm's many buildings is The Pavilion, constructed during the COVID-19 pandemic. The Pavilion is next to the Event Space and allows couples to plan indoor/outdoor weddings or fully outdoor weddings. Electric shades come down around the pavilion to keep the sun out and the wind from blowing in.
"It's heated and air-conditioned. If everything has to be outside, that's not a problem unless we have rain. People have said they like it a lot. It's a nice place. It makes everything comfortable, and if it rains, it's no big deal," Bev said.
Food and Drink Menus Cater to Many Tastes
Couples don't have to worry about finding food vendors because The Farm's three — and sometimes four — on-site chefs can handle meal plans from plated dinners, family-style, and buffet offerings. They draw from years of experience to prepare delicious dishes, many of which highlight fresh ingredients from the Greenhouse and garden on the property.
"I've had two of my chefs for seven years. Chefs tend to hop around a lot, but we've been able to keep our chefs, and they're just awesome. They make it beautiful," Bev said.
Bev said she often hears that the food is the best guests have ever eaten — not just at a wedding, but anywhere. Reviews also tend to comment on how friendly and helpful the staff is.
The Gottfrieds are even training the next generation of restaurant talent with a community service program where teenagers can learn the ins and outs of food service for high-end events like weddings.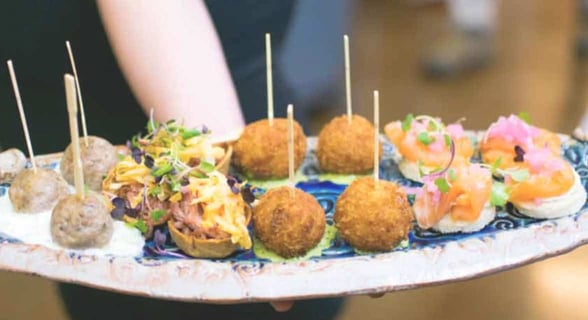 Couples can choose beer, wine, or cocktails to serve at their events. Bev recommends hosting cocktail hours in The Silo, an old silo top transformed into a space that can hold up to 200 people.
Bev is certain her staff can accommodate couples no matter what food and drinks they choose.
"I'm blessed to have a staff with a heart for service. That's what we look for — somebody with a heart for service because that way they're always smiling and not just there to make money. They enjoy helping people have a beautiful event," she said.
Couples also don't have to worry about bringing any décor for the wedding or reception. The Farm provides all the tables, chairs, linens, and other items a couple could need. And if, for example, a couple hires their own florist, the staff can set the dinner tables with floral arrangements and votive candles.
"One section of our waitstaff does set up, including linens on tables and other décor. We don't charge for the décor. They can use as much as we have as they want. We want to make sure everybody is well taken care of without overworking our employees," said Bev.
The Farm: Preparing Unique, Memorable Events
The Gottfrieds are staples around The Farm. Myron has a workshop on the grounds where he is currently restoring a vintage 1955 Corvette.
Occasionally, couples will come to The Farm early with their friends, perhaps for a bachelor or bachelorette party, and they can see Myron working on the car. The Farm has activities like brews cruises and cooking classes for couples who want to gather with their wedding parties before the big day.
"It is our wish and hope that everyone who gets married at The Farm is able to be as fortunate as we have in our 53 years of marriage," Bev said.
The Farm hosts around 120 weddings each year, mainly from March to November, so couples interested in booking the property should start planning early. Couples can book the space for eight hours for weddings Sunday through Friday; for Saturday weddings, couples have access to the space for 12 hours.
Even though many couples wed at The Farm each year, Bev and her team makes sure each couple has a unique experience. With so many on-site buildings and customizable food and drink options, it's no surprise that every wedding is unlike any other.
"We want people to have a very calm day. We want them to enjoy their time and feel like this is their place. That's our goal. To make everybody feel like it's their special place," Bev told us.