The Scoop: Mount Ida Farm & Vineyard is a picturesque vineyard and farm set in the rolling hills of Virginia's Blue Ridge Mountains. Couples in Charlottesville and beyond often choose one of the reserve's four rustic venues to host weddings, which can be intimate gatherings or larger ceremonies. Couples and their guests can stay in lodging on the grounds, simplifying travel and preparation for everyone.
Many couples dream of saying their vows in a natural setting. Mount Ida Farm & Vineyard is a rustic wedding destination set in the rolling hills of the Blue Ridge Mountains that offers four unique venues set on its 5,000 acres of farmland and vineyards.
Its largest venue is The Lodge, which was initially built as a horse stable in the early 1900s. The Mount Ida team transformed the stable into a sophisticated wedding venue while preserving the space's 30-foot ceilings and oak beams. The 12,000-square-foot space has also been modernized with concrete floors and crystal chandeliers.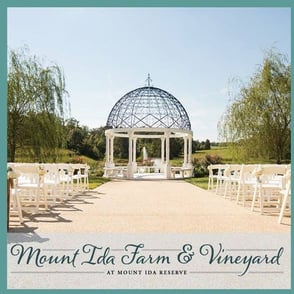 "The Lodge is our most popular venue, most likely because there are panoramic mountain views," said Bronwyn Baumgardner, Mount Ida Farm & Vineyard's Community Relations Manager. "Not only can you see the mountain views at the ceremony site, but the cocktail hour and dancing room inside has windows that allow guests to see the mountains,"
The Event Barn is another vintage venue on the property. The 8,500-square-foot space was once the estate's cattle house, but it has been transformed with a stone fireplace and indoor-outdoor spaces designed for weddings and receptions. Perhaps the most appealing part of an Event Barn wedding is the lakeside gazebo, where couples can enjoy taking photographs.
Couples can also marry at the Water's Edge, which is an indoor and outdoor space on Horseshoe Beach. Ceremonies typically take place on the lakeside before couples move to The Old Red Barn or Lakeside Pavilion for the reception.
The last of Mount Ida's venues is The Tasting Room and Taphouse. It is the most modern of four spaces, and many couples marry on the lawn before moving to the taphouse to enjoy a fireplace, an outdoor bar, and soaring ceilings with chandeliers.
"Each venue has a unique vision and experience," said Bronwyn.
Four Venues Can Accommodate Events of All Sizes
Couples who marry at Mount Ida Farm & Vineyard have plenty of positive things to say about the team, venue, and experience.
Brianna married there in November 2021 and gave a glowing online testimonial.
"The views of the mountains and fall leaves made the backdrop of our ceremony out of this world, and only got better with sunset pictures! The reception at the barn was equally as gorgeous! We have nothing but great things to say about our wedding and the staff, and have heard glowing reviews from our guests!" she wrote.
The team was even flexible with couples during and after the COVID-19 pandemic.
Stephanie and her fiance were under pressure when they had to postpone their April 2020 wedding. While other couples were scrambling to cancel their ceremonies and reschedule, Stephanie felt cared for by the Mount Ida team.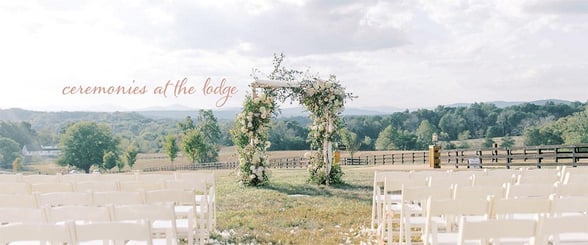 "We could not have asked for better partners to help us navigate all the uncertainty and chaos. The Mount Ida Team was flexible, professional, and, most importantly, understanding," she said.
Once restrictions were lifted, the couple married at the venue.
"We are forever grateful that we had the Mount Ida team in our corner and are so grateful for them. They helped to make sure that we still got our perfect day, and we could not have been happier. Booking with Mount Ida is money well spent — trust me!" Stephanie said.
Another bride, Catherine, said she and her guests felt comfortable at Mount Ida during the pandemic.
"Mount Ida Water's Edge was such a great find! My husband and I planned our wedding during COVID-19, and the fact that Water's Edge has garage doors that can open was a big plus. We ended up having a live band, and people were able to dance inside and outside. Our guests kept asking us where we found this venue!" she wrote in a testimonial.
On-Site Lodging Simplifies Ceremonies and Logistics
Many couples choose Mount Ida Farm & Vineyard for their weddings because the team simplifies an event that can be challenging to plan. Its venues have bride and groom suites where couples can get ready for the ceremony. And its many wedding packages also offer shuttle service from the suites to the ceremony and reception.
Couples can also stay longer in preparation for their weddings.
"Many of our couples choose to upgrade to our destination packages which give them a two-night stay at the reserve. When they opt in for the destination package, they get access to the venue on Friday night for a rehearsal dinner," Bronwyn told us.
Couples can also book the property's manor homes and smaller cottages for their guests to stay overnight after the ceremony.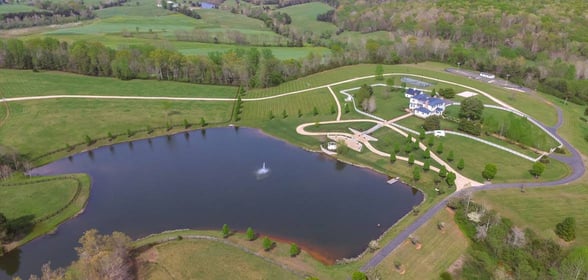 The Mount Pleasant Manor and its guest house have six bedrooms, pool access, and a tennis court. The property can host quite a few guests.
"Thought to be designed by Thomas Jefferson, this manor home features a Jefferson Porch overlooking the Hardware River on our sister farm Mount Pleasant Estate. The manor's deep historical roots make it the perfect place to stay for those looking for a classic Virginia wedding," according to the description on the Mount Ida website.
The Mount Ida Manor is a picturesque white manor house with nine bedrooms.
"This 10,000-square-foot manor home was constructed circa 1795 in Buckingham County, taken apart and meticulously rebuilt on its current site in Albemarle, overlooking Mount Ida Lake and gazebo. The Hardware River traverses the property," according to the website.
Other lodging options include the three-bedroom Cottage, the four-bedroom Lakehouse, the two-bedroom Bungalow, and the four-bedroom Stableview Cottage.
Mount Ida Farm & Vineyard Helps Couples Plan Dream Weddings
Couples planning weddings at Mount Ida Farm & Vineyard should keep a few considerations in mind. First, the standard rental is for a six-hour event that ends around 11 p.m. If couples opt for fall or winter weddings, they should plan to start the ceremony earlier in the day to preserve more daylight.
"We would recommend that the event is scheduled so there is daylight through cocktail hour. Couples usually want more time for outdoor photos, and so guests can enjoy the grounds before coming inside for dinner and dancing," said Bronwyn.
If couples plan to marry in 2022, they should reserve it soon, as Mount Ida is almost fully booked for the year. Many weddings postponed in 2020 and 2021 have been rescheduled for 2022. Most Saturdays are taken in summer and fall, but the venue still has plenty of Friday, Sunday, and December availability.
Many couples plan their weddings for fall to enjoy the foliage of the season. But Mount Ida Farm & Vineyard is always booked out far in advance for fall weddings.
"If you're looking for a fall wedding, you will need to start planning earlier so you can book the venue. We are already booking September and October for 2023. I would suggest being open to other seasons, too," Bronwyn said. "We see ourselves as a four-season venue. Each season offers a different scene, and it's all beautiful."
Mount Ida Farm & Vineyard offers the picturesque country setting that many couples dream of for their wedding ceremonies. Not only can they choose from a variety of venues, but they also have many lodging options.
As one bride wrote to the Mount Ida Farm & Vineyard team: "You truly helped make our wedding day something that we will cherish and remember forever!"