The Scoop: If you're looking for a quick and easy date spot, a food hall like Manhattanville Market may be the best option. Located in the Manhattanville neighborhood of Harlem, Manhattanville Market brings elevated ingredients, recipes, and cuisines to a fast-casual setting. Chef Franklin Becker created the 3 brands and the food hall.  Chef Chris Scott is the creator of Butterfunk Biscuit and Chef Becker partnered with him to bring the brand to Manhattanville Market.
After establishing himself as a world-renowned celebrity chef, Franklin Becker wanted to create a space where he could showcase unique cuisines and innovative recipes. He wanted to create something for everyone who came into his food hall and offer a venue that could be a place of shared community. For it to work, he had to center the Harlem neighborhood where his food hall — soon to be Manhattanville Market — would make its mark.
"My husband wanted to bring something to Harlem that they just really didn't have yet, which is an accessible food hall that serves healthy options, some fun options, and to bring it to the community," said Melissa Becker, Chef Becker's wife and VP of Business Development for Becker Hospitality.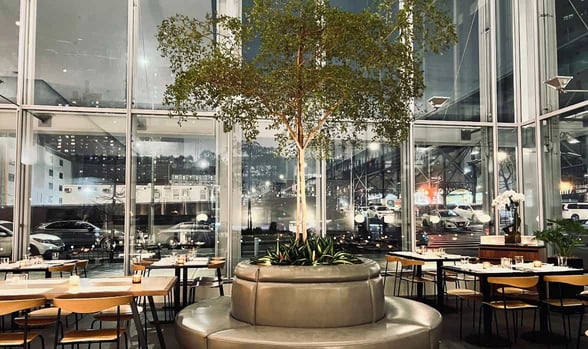 Located near the Columbia University campus in Harlem, Manhattanville Market serves all types of patrons. "The market serves a variety of local residents, students, and staff of the university," Melissa said. With an affordable price range and a sleek-yet-inviting design, Manhattanville Market is a welcoming space for all. 
The food hall has four brands — Butterfunk Biscuit Co., Farmhand, Shai Hummusiya, and Benny Casanova's Square Pies — each of which offers its own unique and tasty selection to patrons. All four brands are housed in the venue, which means choosing somewhere to eat has never been easier.
Manhattanville Market is the place to go whether you're a new Columbia student trying to find a neighborhood eatery for a date with a classmate or a lifelong Harlem dweller choosing a new date spot with your partner. The food hall's expertly crafted dishes, reasonable prices, and warmth and hospitality makes it the perfect place for your next easy, breezy casual date.
A Brand for Every Palate
One of the hardest parts of organizing a date is finding a place that both you and your partner can enjoy. I'm always down for a good Massaman curry, while my boyfriend loves Cuban food above all else. Even if you like similar things, you may be craving different cuisines on any given day, making it tricky to find a spot that suits both of you. That's what's so great about dining at a food hall like Manhattanville Market: You don't need to be in the mood for the same type of food to find something you'll both enjoy.
Chef Becker created three of the four brands served at Manhattanville Market — Farmhand, Shai Hummusiya, and Benny Casanova's Square Pies — while former Top Chef contestant Chef Chris Scott created Butterfunk Biscuit Co.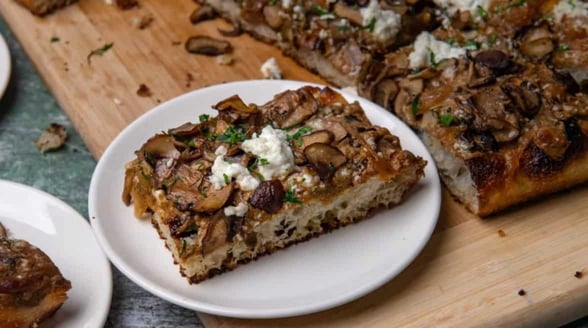 At the Farmhand station, customers can enjoy healthy ingredients grown in-house and ethical meals that leave them satisfied. The menu is vegan-friendly and perfect for anyone trying to prioritize healthy eating while dining out. "Farmhand is our salad concept," Melissa said. "We have a farmshelf in Manhattanville market which grows all of our fresh herbs and lettuces. So we wanted to have a farm-to-table and healthy option."
At Shai Hummusiya, you can enjoy the rich flavors of Israeli cuisine from Harlem. Shai offers expertly crafted hummus platters, wraps, sides, and salatim that are ideal for a quick lunch or a full, shared meal. "Shai Hummus is my husband's love for Mediterranean and Israeli food," Melissa told me.
You can't have a full roster of cuisines in New York City without pizza, and Manhattanville Market certainly covered its bases. Benny Casanova's Square Pies is Chef Becker's take on elevated pizza. "As a young guy growing up in Brooklyn, New York, Chef Becker used to work for this small little pizzeria and always had a love for it," Melissa said. And so he created Benny Casanova's to put his own spin on classic Sicilian pizzas and Brooklyn-style heros. Chef Becker was so set on delivering the perfect pie that he took a year to get the crust just right!
I've lived in the South for a few years now, and one thing I'll certainly miss if I ever leave is the biscuits. Butterfunk Biscuit Co. brings Southern-style biscuits to Harlem and melds them with Amish cuisine to create a truly unique soul food. An ode to the recipes passed down through Chef Scott's family, Butterfunk offers a high-quality take on classic comfort food.
No matter what brand you try, you can't go wrong with Manhattanville Market's delicious food hall offerings. 
Try Oliva Tapas for Finer Dining
The food court is perfect for a fast-casual dining experience and date, but for a more romantic evening, you may want some ambiance. Luckily, you only need to go upstairs from Manhattanville Market to Chef Becker's other creation: Oliva Tapas.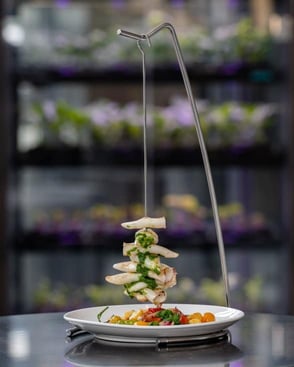 Chef Becker loves Spain and has spent a good deal of time traveling and dining there, so he wanted to deliver authentic Spanish tapas to his patrons.
"People can experience things on a more casual level at the market, and then if they want to sit and dine properly, they can go to Oliva Tapas," Melissa said. "We have happy hour, and we have live jazz music every Thursday and Friday."
At Oliva, you and your date can sit at a candle-lit table with a craft cocktail, enjoying live jazz music, shareable plates, and each other's company. Melissa recommended ordering the Calamar al Espetón, a calamari small plate, for an impressive display. "The squid is on a skewer that hangs from a beautiful stainless steel hook and the plate of vegetables sits under it," Melissa told me. "It's perfect for two and so impressive on a date."
Manhattanville Market: Quality Recipes, Quality Ingredients
Chef Becker and his team prioritize the customer experience and community appeal of food experiences above all, and they bring that to Manhattanville Market. The food hall's affordable prices, quality, ethically-sourced ingredients, and recipes that are to die for appeals to every audience. The Market offers customers a communal place to dine where they can experience many cuisines and meet others from different walks of life.
When I was going on first dates, I always found choosing the venue to be one of the most stressful parts of the ordeal. I never wanted to be too presumptuous about the price, and I often struggled to figure out where I could take someone that would appeal to all palates and dietary restrictions (and allow for a quick exit if need be). 
Once you've been to Manhattanville Market, there's no need to look for another fast-casual date spot; you've got four entirely different menus to try in one location! Manhattanville Market addresses every unmet need you have in fast-casual dining. It's a gorgeous space with an A+ staff and an easy-to-find location —  just two blocks from the nearby subway station.