The Scoop: Goodman Theatre, Chicago's oldest and largest not-for-profit theater, offers a diverse collection of shows great for couples of all ages to enjoy during a night out. Nestled in the heart of downtown and the theater district, the Goodman is surrounded by restaurants and bars that perfectly complement a date night at the theater. Whether in search of family-friendly musicals or thought-provoking dramas, the Goodman Theatre offers it all.
One of my favorite places for date night has always been the theater – there are few better reasons to dress up, splurge on a delicious meal and drinks, and then experience the excitement only found in live entertainment. 
Chicago-area couples looking for a date night that excites and comforts should look no further than Goodman Theatre, a beautifully historic landmark nestled in The Loop. Surrounded by the vibrant and bustling energy of the heart of Chicago, couples can find compelling shows and delicious eats all in the same neighborhood.
Toccara Castleman, the Director of Digital Strategy for Goodman Theatre, sat down to tell us all about one of her favorite places. She said, "There is a space here for couples of all ages at the Goodman, and that's something we're really proud of. The theater isn't a place for just a certain kind of person– we welcome everyone to sit back and enjoy great art."
History and Comfort Meet at the Goodman
Goodman Theatre has been part of Chicago's shifting urban landscape for almost 100 years, positioning it as both a historical landmark and an ever-changing center of Chicago arts culture. The Goodman is committed to producing classic and contemporary works from established and up-and-coming playwrights, and centers diversity and innovation in its artistic endeavors.
Established in July of 1922 and first opening its doors in October of 1925, the theater was founded with quality and education at its core. The theater has seen many changes in its location since its first opening, most notably the development of downtown Chicago and the business district it resides within. Nestled in one of the most eclectic and bustling areas of Chicago, couples will find a date night at the Goodman to be full of history, culture, and community.
Because the Goodman has witnessed so much change in Chicago, one of its leading philosophies is dedication to innovation and preservation. Toccara said, "We want to mix theater and arts activism. We strive to bring theater to not just The Loop community, but the Chicago community at large." Goodman Theatre practices this belief by matching shows with education and outreach programs as a way to connect the community through art.

The theater space itself reflects the rich history of the Goodman. Toccara said, "It's a very regal and inviting space. It's like your grandmother's living room, you know. A mix of antiques and couches – comfort and beauty." A mix of modern and eclectic, the Goodman offers two different state-of-the-art theaters. The Owen Theatre is a courtyard-style performance space with flexible seating for up to 468 and a variety of stage configurations to cater to a spectrum of play types. The 856-seat Albert Theatre hosts large-scale musicals, intimate productions, and classic dramas. 
Beyond performance spaces, Goodman Theatre offers two bars and dining options in very close proximity. The Goodman's sprawling campus honors its history while also creating accessible and new spaces. Toccara mentioned that many of the plays have interactive experiences in the lobby – the upcoming "The Who's Tommy" will feature a pinball machine in the lobby for playgoers to enjoy. Goodman Theatre offers the perfect mix of time-honored theater traditions and modern spaces.
Shows Perfect for Date Night
Goodman Theatre is dedicated to bringing a variety of shows to the Chicago theater scene, and its list of current and upcoming shows reflects this dedication. From captivating and thought-provoking shows like "Antonio's Song" to pop-culture musicals like "The Who's Tommy," Toccara said, "No matter what kind of theater experience a couple is looking for, they can probably find it at the Goodman."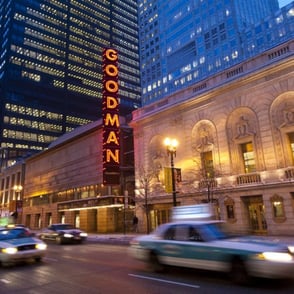 Couples in search of a thought-provoking and unique theater experience would find "Antonio's Song/I Was Dreaming of a Son", a one-man show by Dael Orlandersmith and Antonio Edwards Suarez. "'Antonio's Song' is perfect for cerebral couples who like to intellectualize and have good conversations. The play inspires topical conversations about what's going on in the world through a very compelling narrative," Toccara said. 
"Antonio's Song" explores the life experiences of creator and performer Antonio Edwards Suarez as he grapples with art, family, and reconciling multiple ethnic identities. A moving journey through space, time, and place, "Antonio's Song" is deeply personal and thoroughly moving.
"The Who's Tommy" brings a sing-along summer musical to Goodman Theatre, where couples looking for all the fun found in musical theater can experience the iconic music of The Who set to the magical story of Tommy Walker. Originally penned as a rock concept album in 1969, composer and The Who guitarist Pete Townshend and original director Des McAnuff have re-examined "Tommy" for its run at the Goodman, which is June 13-July 23, 2023. 
This musical combines the music of The Who, most notably "I'm Free" and "Pinball Wizard," with a compelling story that appeals to a wide audience. "Tommy is perfect date night material for any couple. If you have teenage kids or a group of friends, bring them along too– it's fun musical theater perfect for the summertime," Toccara said. Couples planning a date night at Goodman Theatre should check their online schedule, which is up-to-date on all upcoming shows.
A Show… and Dinner!
Goodman Theatre's location in downtown Chicago means that couples planning a date night have no shortage of food and drink options to complement their night at the theater. The Goodman has partnered with an exclusive group of nearby establishments to offer promotions and discounts to patrons of the theater before or after their show.
Within the theater complex itself are two bars that offer alcoholic and non-alcoholic beverages that cater to all kinds of theatergoers, along with small bites to hold over audience members during intermission.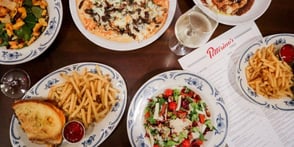 Petterino's is located within the Goodman Theatre complex and has served the downtown Chicago community for over 20 years. Known for reimagined Italian fare and a welcoming vibe, couples will find it the perfect spot for an intimate dinner or drink pre- or post-show.
For couples who love fresh seafood and live music, Catch 35 is an iconic restaurant situated just blocks from the Goodman. With a happy hour every weekday from 3 p.m. to 6 p.m., couples can find time to grab a quick drink before heading to their show. Catch 35 offers 10% off total food purchase for Goodman Theatre patrons when they show a ticket for a performance that day.
Urbanspace's 12,000-square-foot food hall offers options for every couple enjoying a night out. With 11 different food vendors offering a variety of cuisines, from the plant-forward menu of Plant Junkie to the Mexican-inspired fare of Spanglish, the vibe of Urbanspace is busy and eclectic, and just steps away from the Goodman. Participating food vendors offer 10% off for Goodman patrons and regular happy hour specials.
A central location, reliable high-quality theater experiences, and superb nearby dining and drink options combine to make Goodman Theatre a top-notch choice for Chicago couples planning a date night. Engaging with art and culture in a beautiful setting in a bustling neighborhood is a great way for couples to meaningfully connect – and who doesn't want an excuse to dress up and go out on the town?
Combining classics and new works, Goodman Theatre is a downtown Chicago landmark and has stayed committed to serving its diverse and growing community. Tocarra said, "Whether you're a young couple looking for fun in the city or a more mature couple looking for a classic night at the theater, come to the Goodman. We welcome everybody."