The Scoop: Whether you're going to the gym to work out or find yourself writing in your journal to clear your mind, it's important to incorporate self-care into your daily routine. Without self-care, people often find themselves unable to maintain healthy relationships and social connections. Fortunately, the app Headspace helps singles understand what self-care entails and how to practice it every day. As advocates for mental health, the Headspace team is on a mission to find the best possible ways for people to find their inner peace. With over 70 million members who use the app, Headspace creates healthier lifestyles through meditation and mindfulness.
I never realized how important self-care was until I realized that I kept running into common issues in my relationships. I found myself unable to pour into my closest relationships when I didn't find the proper time to pour into the most important relationship I have — the one with myself. By practicing self-care, I was able to effectively do and feel better in my relationships. 

People who engage in a self-care routine experience a healthier lifestyle, both mentally and physically. Self-care reduces negative emotions such as anxiety, depression, frustration, and anger, and replaces them with happiness and a state of tranquility.
According to the National Institute of Mental Health (NIMH), even small acts of self-care in your daily life can have a big impact. 
Headspace is on a mission to encourage singles to practice self-care, and the Headspace app is a safe place to find your inner peace with the help of a supportive team. Headspace was designed to combine science-backed meditation and mindfulness tools to help people create life-changing habits to support their mental health. According to the Headspace team, Headspace has reduced stress among its members by 14% in just 10 days of joining. 
"Self-care, in general, has seemed to be an increasingly popular topic across the board," said Headspace Meditation and Mindfulness teacher, Dora Kamau. "According to a recent survey we conducted at Headspace Health, the use of digital mental health apps among working consumers in the U.S., such as remote-based therapy and meditation apps, has doubled since 2020. This goes to show that people are increasingly taking their mental wellbeing into their own hands."
As part of Headspace Health, the world's most accessible and comprehensive provider of mental health and well-being care, the Headspace app helps transform mental healthcare by pushing forward in creating a world where people are kinder to their minds. 
"Headspace provides me with … a connection to myself, and a disconnection from negative thoughts, feelings, and sensation," said Keri, a Headspace user in a testimonial. 
Keeping Daters in Touch With Their Inner Calm
The first thing to think about when you decide to step into the dating world is whether you're ready mentally and emotionally. Dating is a whole ball of fun — until you encounter rejection or failed dates. That's why it's important to prepare your mind and identify how you can always keep in touch with your inner calm in uncomfortable situations.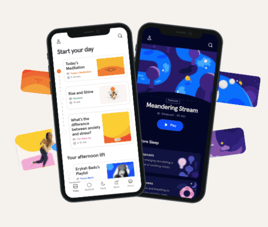 Headspace is a great place to figure out how to obtain your inner calm. Buddha said it best when he said the mind is a powerful thing; when you filter it with positive thoughts, your life will start to change. The mind often determines your outlook on life. Headspace is all about trying to find the best possible techniques to strengthen your mind. "Changing my thoughts has allowed me to change my life," said Davide, a Headspace user in a testimonial. 
Headspace defines meditation as both a skill and an experience that can improve your health and happiness. Dora told us that anyone can learn how to use meditation to create a calm and balanced environment for themselves — and thanks to the Headspace team, they don't have to do it alone.
"Find a buddy or someone who can help you stay accountable. Meditation is really a team sport and is best done in the community. What helps us to keep on coming back to the practice is by knowing we aren't alone in the journey!" said Dora. 
Headspace also offers daters different meditation exercises such as its Pre-Date Inner Voice and Pre-Date Nerves meditations to help singles ground and connect to the present moment. Dora told us that these exercises also help daters calm any thoughts or feelings they may have before the date. 
Learning How to Manage Feelings With Mindfulness
According to Headspace, mindfulness is the ability to be present, to rest in the here and now, and to fully engage in whatever we're doing in the present moment. But as you can already conclude, it's easier said than done. Headspace has mindfulness exercises that help members learn how they can incorporate mindfulness into their lives.
Singles who want to learn how to be more present when they're dating can take advantage of the many sources available on Headspace. From how-to guides to sessions on practicing mindful moments, Headspace is an app that meets you where you are. Dora told us that the app has meditations for just about anything to help members manage their feelings and obtain more thoughts of mindfulness when life gets tough. 
"We have meditations for unemployment anxiety, healing from a breakup, dealing with distractions to content for parents, caregivers, and kids," said Dora. "Beyond sitting with your eyes closed, there are also exercises for mindful walking, mindful eating, mindful movement, and sleep."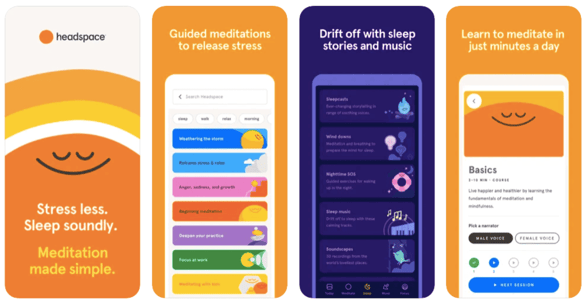 Dora told us that it's important for people to understand the difference between meditation and mindfulness so they can integrate them both into their everyday lives. Meditation is the technique whereas mindfulness is the skill. By prioritizing both practice and skill building, people can have greater control over their emotions and more fulfilling relationships.  
Mindfulness helps singles be more focused and productive while dating. They can fight against anxious thoughts and gain more clarity about who they are and what they want out of a partner. A lot of members praise Headspace for allowing them to recognize what was stopping them from reaching their fullest potential.
"I came to learn that the storyline in my head … was holding me back," said Peter, a Headspace user in a testimonial. 
Headspace Prepares Singles for Future Relationships
Headspace sets the standard with quality access to mediation and coaching, and the app is used in 190 countries around the world with over 600,000 reviews to attest to its credibility. Headspace offers subscriptions for practicing mindfulness skills. Starting on a free trial, people often leave the app with less stress, more joy, and the best sleep ever. 
"You won't regret buying a Headspace subscription. I often joke with people that Headspace is the one thing I would want to take with me to a desert island. If I were to cancel all of my subscriptions today, Headspace is the one exception I would make," said a Headspace user in a review. 
Singles who use the Headspace app are setting themselves up for success in their future relationships. Relationships blossom when a couple understands the importance of incorporating mindfulness and self-care into their relationship. Mindfulness helps people be more understanding of their partner's perspectives and emotions and ultimately leads to a long-lasting relationship.
Dora told us that mindfulness helps singles be less judgmental and more compassionate by living in the moment. To improve the health and happiness of the world, Headspace plans to continue to encourage members to practice self-care and mindfulness routines. We can expect more from Headspace in the future as the need for more meditation and mindfulness exercises grows. 
"Even if you only meditate for five minutes, you can feel the benefits of being present right away. The mind may feel more spacious, less chaotic, and at ease. With time, practice, and consistency, these benefits become more apparent," said Dora.